Join the Patriot Heart Program for $19/month.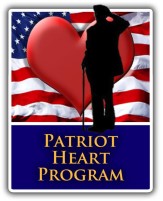 Your donation goes a long way to to help Veterans and their familes

Click on the button below to join now.
"Thank you so much for all the help getting assistance for Ann & Sam Deise and all Veterans!"
Dear NAVF,
On behalf of the family of Harrell E. Graham, a Korean veteran, we thank you for all that you are doing to help living veterans along with the surviving spouses to receive a much deserved benefit from the VA.  My Dad was a brave man and was truly honored to serve our great country in Korea.  He graduated to heaven in March of this year.
Thank you and may God bless you in many ways for your commitment to help families like ours.
It took a while to make this happen, but it has finally come to fruition. It could not have occurred if I had not had your diligent and expedient support. Every one of you is super, and NAVF is lucky to have professional individuals (like yourselves) to provide assistance to veterans and their spouses. WOWSA … what a TEAM! – On behalf of the Neill family, thanks again.
Upcoming Events
2019 NAVF Gala
2019 Golf Tournament
Support
Donate Now
Corporate Supporters